Vin number 9111120404 indicated it is a D-programme model year 1971(started Sep 1970, finished July 1971) 911 2.2 T (touring) coupe with a body build by Karmann.
Should come with engine type 911/00, indicating a 2.2 litre carb fed, 125 bhp, 177 nm, with engine number 6110001 onwards, and one of 1934 build at Karmann, whereas a further 583 where build at Porsche Stuttgart. Karmann was subcontracted to build 911T, to meet the demand.
Performance of that 1020kg 911T back then was 0-62mph in 9.5 seconds, top speed of 127 mph. It'll feel lively anyway.
It is not indicative of a US market car in that time, as those '1971 model year 911T had a vin starting 9111110001 to 9111113476, with engine numbers 6114001 onwards. Now, plenty of LHD cars where imported in the 1980-ties as a "grey market" car into the USA: cheap local currency, expensive dollar, and various companies imported 911's into the USA from Germany and Holland.
The car had a pretty comprehensive make over into a USA turbo look. Lets not forget that the 930 was not imported by Porsche USA between the years 1980 and 1986. Originally, it would have looked like:
or, if it had a light interior such as Tan, usually a contrasting dark interior colour
with an interior / dashboard which would have looked like so: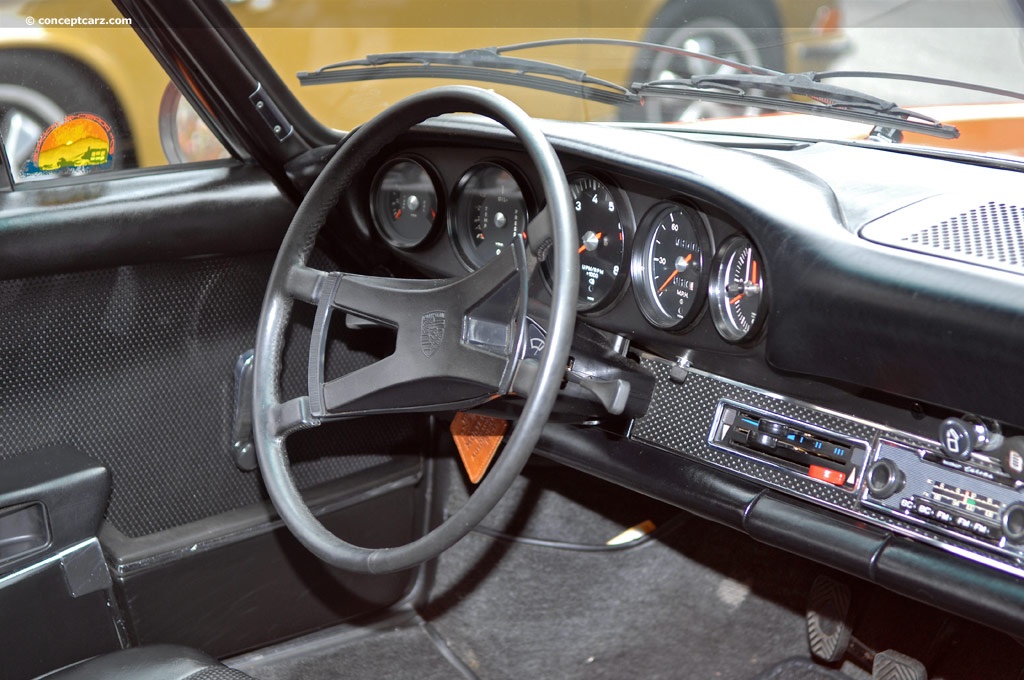 A turbo look based on an early car had usually a good profit margin, as 10 years of salt and winter driving would most likely require comprehensive work to the original car anyway. It all depends on how the bodywork was done (original turbo front wings, rear wings, fibreglass replacement panels, whether the car was crashed etc etc ) It stands on 15 in Rial cross spokes.... The turbo 7 and 8 inch fuchs would be very expensive but correct to the conversion. Corners might have been cut. Finally, it is a conversion post 1983, as it has the integrated fog lamps in the front valance of the 1984 model year 911 3.2 Carrera. RHD or LHD: one look at the bulkhead would tell all, if you know what to look for.
In doubt, contact Porsche Cars GB for its "build sheet" or Certificate of Origin.
What is it worth? Take the price of an original or very very good 1971 911T (I can hear you scream HOW MUCH?!) and subtract the cost it would take to bring that car to that stage (even more amazement, no doubt).
Anything below that price and everyone could be a winner.
Best regards,
Bert