This is the same car but I have decided to start a new post as the previous one was getting too cluttered, and a couple of things have changed since. The car now has a full MOT until Aug 2018, however it flagged up some advisories that I wasn't expecting (see car description below). Due to a change in personal circumstances I am unable to take care of these advisories so I have reduced the price (significantly more than the cost of the repairs). There is nothing to stop the car from being driven and enjoyed as is and would make a good little winter project. You would have a fantastic car for next season. I have already carried out a lot of the significant work this car required as you will see below. I have no doubts that I will regret selling the car but alas it has to go. I am open to sensible offers.
Attachment: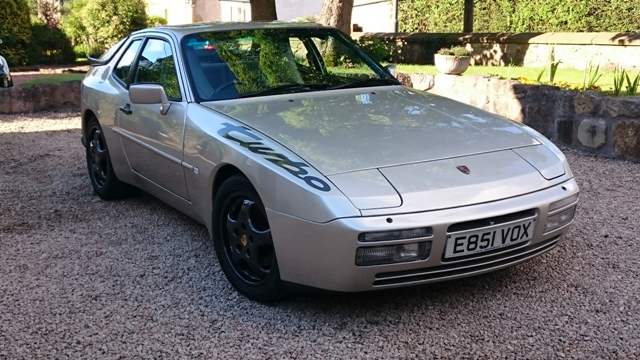 front quarter normal.JPG [ 173.84 KiB | Viewed 1380 times ]
Description
Porsche 944 turbo, early 1998 in Zermatt Silver. Just coming up to 157,00 miles. MOT until Aug 2018.
Mechanically standard car, and as far as I can tell from the history and the car itself it has not been performance modified. It has good service history with 24 stamps and an extensive file of receipts. The car comes with 2 keys. The previous owner had the car since 1999.
The previous owner had the inner and outer sills replaced on both sides, windshield surround repaired and windshield replaced. In the past couple of years the timing and balance belts have been done; new radiator; distributor cap and rotor.
I have given it a refresh both mechanically and cosmetically. The highlights of which are new front suspension struts and springs, new rear dampers, 2 new rear tires; Alternator belt, tension arm, voltage regulator, and cooling duct replaced; new ignition leads and air filter; repaired numerous electrical items such as the sunroof, clock, seat operation; the paint work has been cut, buffed and sealed; new decals applied colour matched to the wheels; Porsche Cup 1 wheels refurbished in Porsche metallic graphite colour with matching caps; new clear front and side indicator lenses; front seats repaired and re-coloured; new floor mats.
This is a stunning car and has received plenty of complements at various events such as the Ignition Festival of Motoring @ SEC Glasgow (it was on static display there for 3 days), Porsche at the Hill (Knockhill Porsche gathering) and the Tartan Tarmac coffee mornings.
There are some negatives:-
There are some advisories from the recent MOT
- Oil Leak
- NS Front Anti roll bar linkage has slight play
- Front brake disks slightly worn
- Grease over brake pipes
- Fuel Pipe corroded
- Corrosion around offside rear jacking point
- Corrosion around nearside front jacking point
The air-conditioning doesn't blow cold
£13,850
Mob: 07795 212240
Attachment: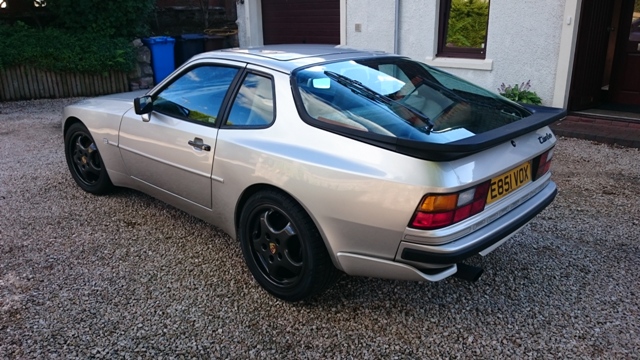 rear left quarter.JPG [ 162 KiB | Viewed 1380 times ]
Attachment: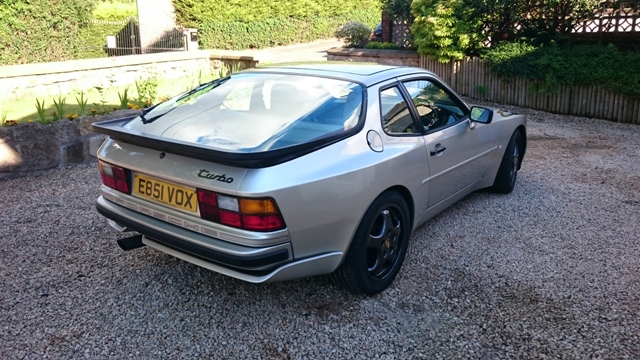 rear right quarter.JPG [ 181.63 KiB | Viewed 1380 times ]
Attachment: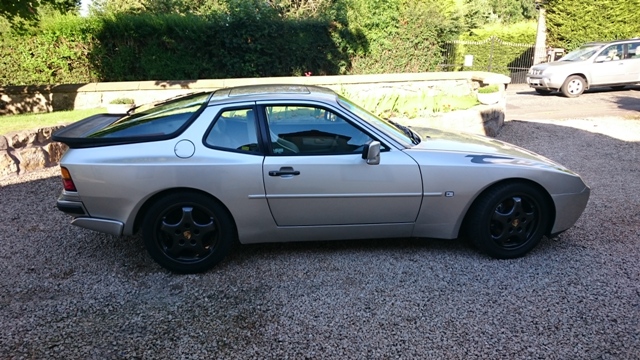 side.JPG [ 175.32 KiB | Viewed 1380 times ]
Attachment:
head on.JPG [ 196.26 KiB | Viewed 1380 times ]